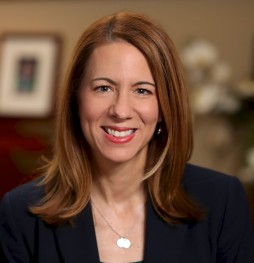 McAllister & Quinn is excited to announce that Ellen Riddleberger has been promoted to Senior Vice President and Leader of the Nonprofit Practice.

In this capacity, Ellen will have primary responsibility for the management of the Nonprofit Practice and will work closely with McAllister & Quinn's managing partners to develop and execute a strategic plan to manage and grow the practice. Ellen began working at McAllister & Quinn in 2007 and served as Vice President for the firm prior to her promotion to Senior Vice President.

"As we continue to grow our Nonprofit practice, Ellen will help us to manage the firm's clients and continue to innovate and improve our nonprofit services," says John McAllister, who founded the firm in 2004 with Andy Quinn. "During her tenure at McAllister & Quinn, Ellen has assisted various clients in securing tens of millions of dollars in grant funding in support of their missions."

"I am thrilled with the growth of our practice and the success of our nonprofit clients. I look forward to expanding this truly rewarding work as we continue to grow the practice and expand our grants and government relations work to assist more nonprofits," says Ellen.

Based in Washington, D.C. with 50+ full-time employees, McAllister & Quinn is a comprehensive grant consulting and government relations firm that provides a full range of services to a diverse group of clients. The Nonprofit Practice's proven process identifies funding opportunities that align with nonprofit client's priorities, utilizing collaborative project design, and providing clients with comprehensive grant writing services. In addition, through McAllister & Quinn's strategic government relations services, McAllister & Quinn can further their nonprofit client's goals by working with Congress and the federal agencies. McAllister & Quinn's unique and successful blend of consulting services is tailored to meet the needs of each individual client whether they are experienced large national nonprofits or smaller regional and local organizations with no previous grants history.

Ellen brings to her role 20 years of legislative and grants experience. Prior to joining McAllister & Quinn, Ellen was the Chief of Staff and Appropriations Associate Staff for Congresswoman Lucille Roybal-Allard (D-CA). Ellen currently serves on the board for The Maternal Mental Health Leadership Alliance (MMHLA) a nonprofit dedicated to promoting the mental health of women and childbearing people in the United States. She is a native of Sacramento and earned her B.A. in political science at California Polytechnic State University, San Luis Obispo and her M.A. in political science from Stanford University.
Read more about McAllister & Quinn's Nonprofit practice here.