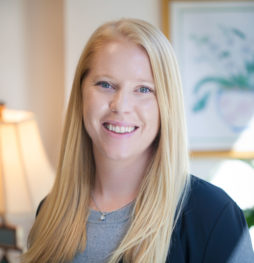 McAllister & Quinn is excited to announce that Kellianne Lauer, MBA, CP APMP has been promoted to a Vice President in McAllister & Quinn's growing Research Universities Practice. In addition to overseeing several of the firm's research university clients, she will also help to develop and implement the practice's strategic goals. Kellianne served as the Managing Director of the Research Universities Practice for the firm prior to her promotion to Vice President. 
Before joining McAllister & Quinn, Kellianne worked in Arizona State University's (ASU) central Office of Research Development as a Proposal Manager where she facilitated proposal development for large-scale, complex research programs across disciplines and federal sponsors and led faculty grantsmanship workshops. In addition to supporting research proposals, Kellianne supported ASU's international development team in submitting proposals to the Department of State and the United States Agency for International Development.
"We are excited to promote Kellianne to Vice President and are confident in her ability to lead the practice as we expand our work with colleges and universities from all across the nation," says Andy Quinn, who founded the firm in 2004 with John McAllister. "We will draw upon Kellianne's experience in sponsored research and program management to help serve our larger institutions."
Based in Washington, D.C. with more than 50 full-time employees, McAllister & Quinn is a comprehensive grants consulting firm that provides a full range of services to a diverse group of clients. McAllister & Quinn has a higher education practice that serves small and mid-size colleges and universities and a Research Universities Practice that serves an increasing number of larger clients that include public and private research universities, integrated medical research practices, academic medical centers, and other research-intensive organizations and that are seeking to diversify their sources of sponsored research dollars, as well as expand efforts to build technology consortiums.
Kellianne has more than 10 years of experience working with non-profit organizations and public institutions in program management and research development. She provides clients with advice and support to develop relationships, identify appropriate funding opportunities, and apply for funding at federal agencies. Among her professional and community activities, Kellianne is a member of the National Organization of Research Development Professionals (NORDP) and the Association of Proposal Management Professionals (APMP). Kellianne earned her MBA from ASU and a BA from College of Saint Benedict. Kellianne is a returned Peace Corps volunteer and served in Armenia as an English teacher and teacher trainer. ##END