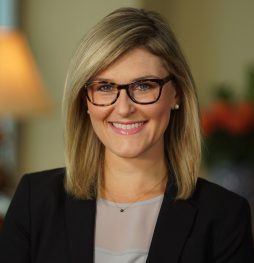 (WASHINGTON, D.C.) – McAllister & Quinn is excited to announce that Alexandra (AJ) Jensen, MBA, has been promoted to Vice President in the Higher Education Practice. In this capacity, AJ will oversee client relations for a growing portfolio of higher education clients and internal staff management. She will also provide leadership for a new service line at McAllister & Quinn.
During her eight-year tenure at McAllister & Quinn, AJ has served as Director, Managing Director, and Team Lead for Strategic Initiatives. "AJ has an aptitude for client strategy and has worked directly with our clients to secure millions of dollars," says John McAllister, who founded the firm in 2004 with Andy Quinn. "Her contributions to our higher education practice have supported our smart growth and increased internal efficiencies."
Maeve Connolly, Senior Vice President, notes "AJ is a reliable and professional colleague with exceptional standards for client strategy and service. We are thrilled she is bringing this expertise to our leadership team".
Based in Washington, D.C., with 80+ full-time employees, McAllister & Quinn specializes in consulting on behalf of numerous private and public colleges and universities. Over the past ten years, McAllister & Quinn has helped secure hundreds of millions of dollars in grant funding for its higher education clients. McAllister & Quinn's grant consultant network consists of more than 250 subject matter expert grant writers whose backgrounds range from accomplished academics to seasoned professionals.
Prior to her work at McAllister & Quinn, AJ served as a Project Manager at Cooper's Ferry Partnership (CFP), an economic development organization in Camden, New Jersey. AJ graduated with a Bachelor of Arts in Global Studies from St. Lawrence University and received her Masters in Business Administration from Georgetown University McDonough School of Business.
Contact: Maeve Connolly, Senior Vice President, McAllister & Quinn, (202) 296‐2741 or click here.