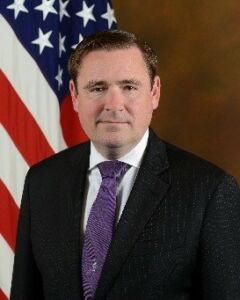 (WASHINGTON, D.C.) – McAllister & Quinn is excited to announce the senior appointment of Defense Policy specialist, Stephen Ham, joining the firm as Vice President in their thriving Advanced Technology practice.
Prior to joining the firm, Steve served as the Senior Defense Policy Advisor to Senator Ben Cardin, Ranking member of the Senate Foreign Affairs Committee, where he handled defense issues related to Maryland's defense industrial base, as well as Foreign Military Sales. Previously, he served as Presidential Appointee during the Obama Administration, as the Senior Advisor to the Assistant Secretary of the Army for Acquisition, Logistics, & Technology. In this role, he advised the Assistant Secretary on the development and management of key Administration priorities and served as the primary liaison for the Office of Chief Legislative Liaison between Congress and senior Army and Department of Defense officials regarding defense acquisition matters.
Earlier in his career, Steve spent 8 years as Democratic Majority Leader Rep. Steny Hoyer's top military staffer. In this role, he worked closely with the House Armed Services Committee and House Defense Appropriations Subcommittee on policy and funding initiatives. Responsible for all defense issues, he facilitated university partnerships and manufacturing contract opportunities with the Air Force, Navy, Marine Corps, Army, and Special Operations Command.
"Steve brings a high-level of experience and knowledge to McAllister & Quinn from working on defense issues on Capitol Hill and the Pentagon for over 20 years" says Andy Quinn, who founded the firm in 2004 with fellow Managing Partner John McAllister. "Steve understands the dynamics impacting the defense industry and will be working with a broad range of clients from small businesses conducting innovative research, to large contractors involved in the development of major defense systems."
McAllister & Quinn is a specialized government relations and Federal grants consulting firm based in Washington, D.C., with more than 90 employees. For more than a decade, McAllister & Quinn has worked with their client partners to secure well over $2 billion in funding.
Steve earned his B.A. in Political Science from James Madison University and currently resides in Washington, DC with his wife Elizabeth
Contact: Steve Ham, Vice President, McAllister & Quinn, (202) 296‐2741 or click here.