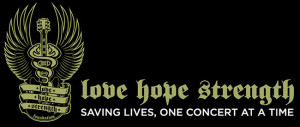 For Immediate Release
September 10, 2014
Contact: David Grenham
Tel: (202) 296-2741
(WASHINGTON, D.C.) – McAllister & Quinn is pleased to be working with Love Hope Strength (www.lovehopestrength.com), a nonprofit foundation founded by cancer survivors Mike Peters (of the Welsh rock band The Alarm) and James Chippendale (CEO of CSI Entertainment Insurance) with the goal of making sure everyone everywhere has access to cancer care and bone marrow donors.
LHS is focused on raising awareness and gathering support for efforts to build and support cancer centers around the world, boost awareness of global cancer needs, and expand international bone marrow databases.
LHS's accomplishments include purchasing Nepal's first mammography and internal radiation machines and funding the construction of the first children's cancer center in Tanzania.
McAllister & Quinn will be working to help raise the visibility of the Foundation's activities with stakeholders on Capitol Hill and within federal agencies.
Scott Tominovich, Vice President at McAllister & Quinn said, "It is a real pleasure to be working with Love Hope Strength. The foundation has successfully used music to make a real difference in people's lives, and the M&Q team is excited to be part of the effort. Having the support of musical artists such as Robert Plant, George Strait, Elvis Costello, The Roots, Enrique Iglesias and many others is an extremely valuable tool in helping get people engaged and energized. We are going to help LHS turn it up to 11!"
As the world's leading rock-and-roll cancer foundation, LHS primarily raises its funds through musical pilgrimages to majestic sites like Mt. Everest, Mt. Fuji and Machu Picchu, and holds numerous local events as part of its "Get on the List" campaign, which encourages concert-goers to register to become bone marrow stem cell donors.
###
McAllister & Quinn is a comprehensive, bipartisan government relations and grants consulting firm that provides a full range of services to a diverse group of clients with issues before the federal government.